Abraham Gray
Biographical Information
Kanji

グレイ

Rōmaji

Gurei

Also known as

Abraham Gray (Real Name)
The Reverend

Basic Information
Gender

Male

Age

Unknown

Birthday

Unknown

Zodiac

Unknown

Blood Type

Unknown

Height

Unknown

Hair Color

Black

Eye Color

White (sclera /no pupil)

Status

Unknown

Debut
Game
Anime
Voice Actors
Japanese Voice

Hochu Otsuka

English Voice

R Bruce Elliott

Image Gallery

Gray is one of the characters in Satsuriku no Tenshi. He serves as the master of Floor B2. He is a temporary antagonist in episode 3 when he accuses Rachel of being a witch, but later becomes an ally at the end of Episode 3 and rest of Episode 4.
Appearance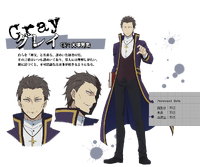 Gray is a tall, seemingly middle-aged man with short black hair that is slicked back, his eyes are only white with no pupils visible at all. His clothes consists of a purple long cloak with golden lining, wearing a golden cross necklace, with a black suit vest with a white buttoned shirt underneath. He also wears black dress pants and shoes. He also has seemingly fair skin.
Personality
Gray is a serious and quite religious man. He appears to speak in Shakespearean-like language, always replacing normal words with "thou", "thy", "whilist", and so on. He appears to judge people based on their morality and actions. As seen through his journey with Rachel Gardner to go get medicine for Zack. He appears to view every floor master as his "angels of death", as he seems to see morality and possibly Value in what Cathy, Eddie, Danny, and even Zack, do on their respective floors.
He even goes as far as to accuse Rachel of being selfish, manipulative, and even a witch from what he has heard and seen her do during their journey together, and was actually fully aware of what she did to Cathy and Eddie. And at one point, attempted to execute her by burning her at the stake.
History
Plot
Episode 3
Episode 4
Relationships
Quotes
Trivia